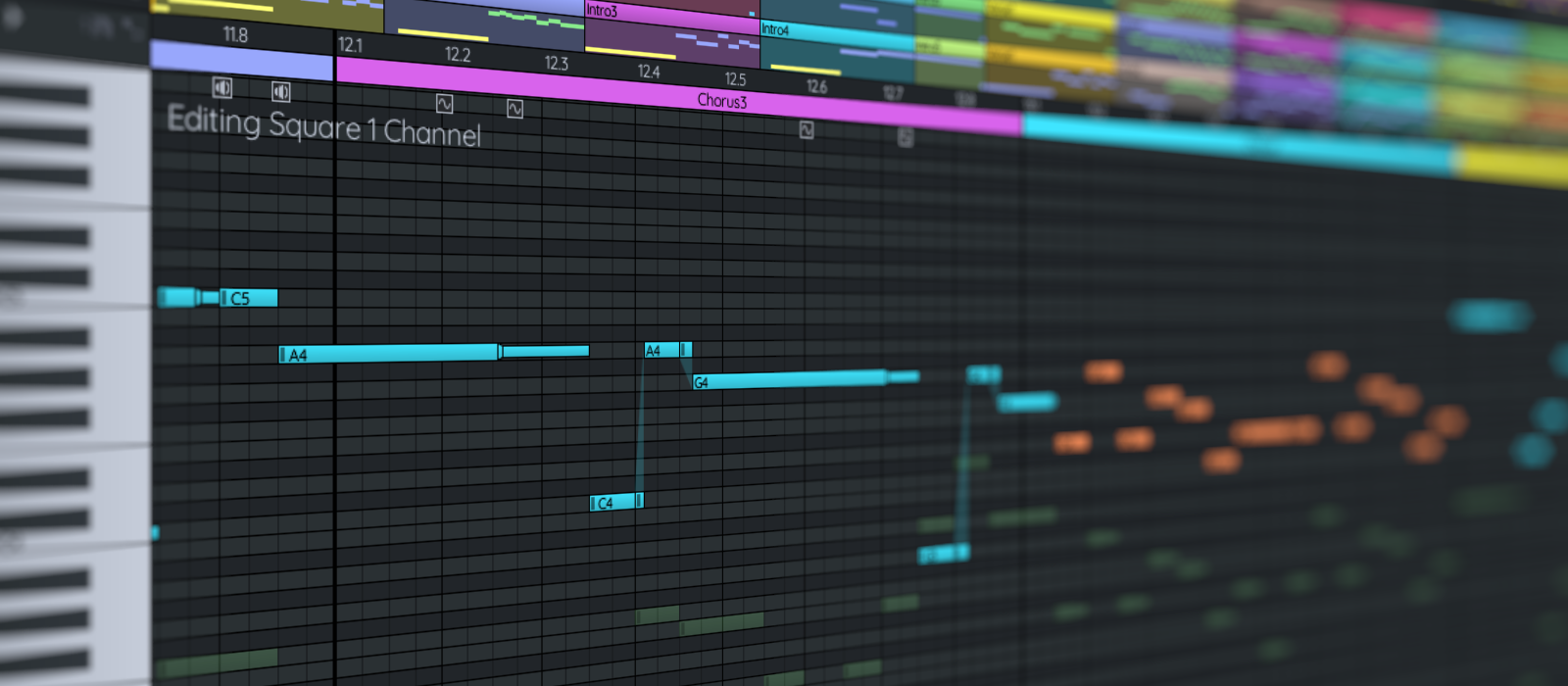 FamiStudio
FamiStudio NES Music Editor
FamiStudio is very simple music editor for the Nintendo Entertainment System or Famicom. It is designed to be easier to use than FamiTracker, but its feature set is also much more limited. It is targeted at both chiptune artists and NES homebrewers.
Features
Modern DAW-style UI with piano roll, no hexadecimal anywhere
Instrument & Envelope edition
NSF import
DPCM sample editor (WAV and DMC support)
Full Undo/Redo support
Copy & Paste support
Note drag & drop with audio preview
Import from FamiTracker FTM & Text (official 0.4.6)
Export to various formats (WAV, ROM, NSF, FamiTone2, FamiStudio Text, FamiTracker Text)
Volume, fine pitch, vibrato effect tracks
Slide notes (portamento)
Arpeggios
NES sound engine (CA65, NESASM, ASM6)
MIDI input support
MIDI import/export
Audio expansions supported: VRC6, VRC7, FDS, MMC5, Namco 163 & Sunsoft S5B.
Windows, MacOS and Linux versions.
Latest Release
Fixes in 3.1.1 (Latest hotfix)
Fixed piano roll piano keys not highlighting when exporting video
Fixed application stalling when closing on MacOS
Fixed "advanced properties" buttons growing when using >100% scaling on Windows
Adding failsafe when time signature cannot be computed when exporting MIDI
Associating FMS files with FamiStudio on startup in portable mode
Experimental support for OpenH264 in video export
New features in 3.1.0
OGG export
Oscilloscope video export
Stereo WAV/MP3/OGG/Video export
Metronome
Noise slides
Volume slides
Noise emulation improvements
Portable mode (save settings in root folder if portable.txt is detected)
Import samples from other projects
Loop in selection mode
ROM export now uses MMC3 mapper
Fine tuning + DMC initial value parameters on DPCM samples
Option to auto-save copy every 2 minutes
Option for thicker scroll bars
Minor sequencer selection improvements
MacOS Monterey Beta support, Beta 3 or newer needed (Thanks OpenTK team!)
Sound Engine CC65 bindings (Contribution from jroweboy!)
Breaking/behavior changes:
Pattern numbers in the sequencer and piano roll now start at 1 instead of 0. This is a purely esthetic change and does not impact anything.
Release trailer
Download
Download links
Windows Installer




Windows Portable EXE

MacOS Bundle

FlatHub




Linux AMD64 Binaries

NES Sound Engine
(CA65, NESASM, ASM6)
Installation Instructions
On Windows simply download and run the installer (Setup.exe). A shortcut to FamiStudio and the included demo songs will be added to your Start Menu. If you get a warning when installing or if the app crashes when running, please check out the documentation for the fix.
On macOS, download and uncompress the file anywhere and the launch FamiStudio app. The demo songs and included in the zip. The app is unsigned and might require you to ignore a few warning.
On Linux, the FlatHub page contains the instructions, if installing from the ZIP file please read the installation instructions.
Demo Songs
A few demo songs are included in the installation folder (typically C:\Program Files (x86)\FamiStudio). Songs with no author are my approximate re-creations, based on the NSF.
After The Rain (by Shiru, included with FamiTone2)
Danger Streets (by Shiru, included with FamiTone2)
Dedricil - Full Soundtrack (by How2Bboss. Thanks!!!)
Layla : The Iris Missions - Iris (by Supper, my approximate recreation)
Tower of Heaven - Indignant Divinity (Flashygoodness, cover by Danooct1. Thanks!!!)
Mega Man 2 - Stage Select & Dr. Wily's Castle
Journey To Silius - Intro
DuckTales! - The Moon
Castlevania 2 - Bloody Tears
Shovel Knight - Strike the Earth! (Plains of Passage)
Shatterhand - Final Stage
Gimmick - Strange Memories of Death
Silver Surfer : BGM2
Gradius II - Farewell
Gyruss - Stage 2
FamiStudio - Tutorial Song (song created in tutorial)
Documentation
Please visit documentation page for detailed documentation.
Getting Started
Here is a 1h video tutorial that will show you how to create a basic song from scratch.
Source Code
The entire source code is available on GitHub.
Contact & Social Media