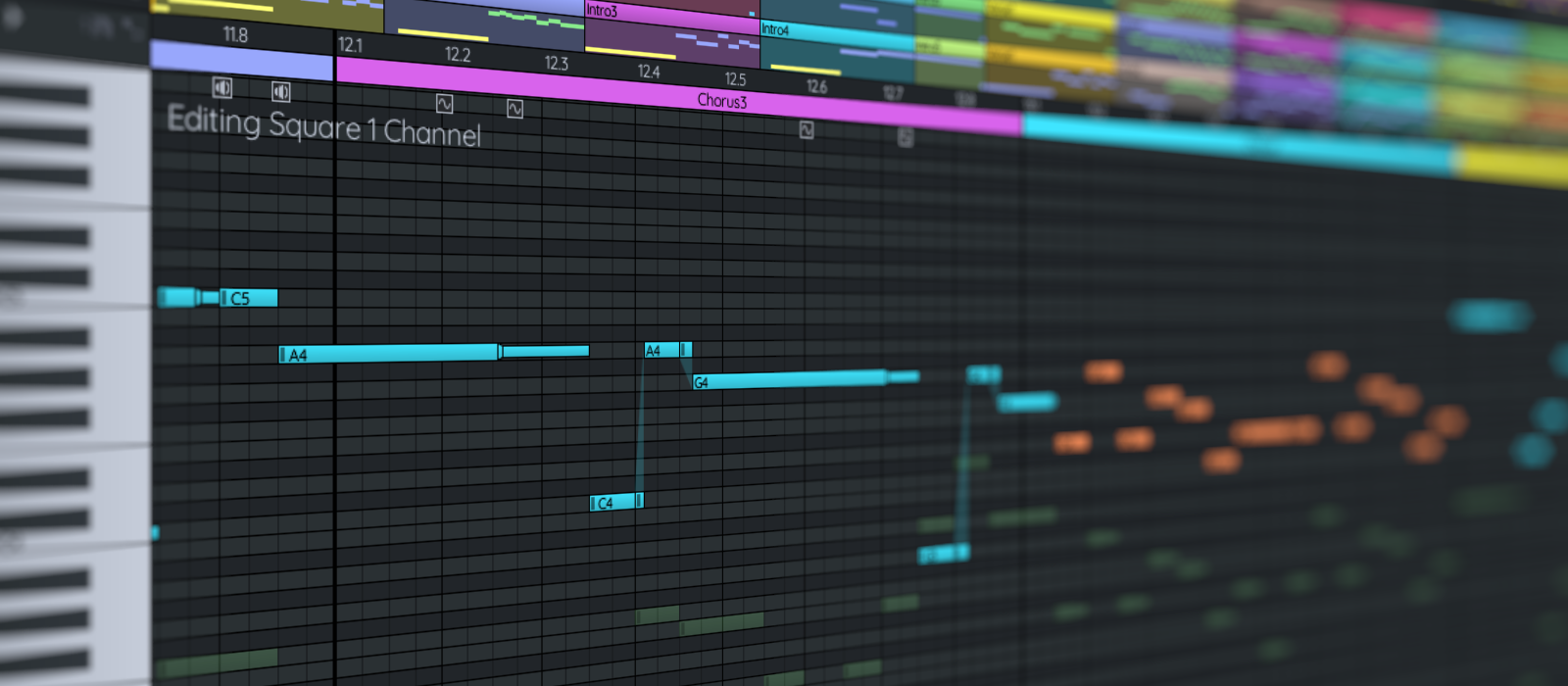 FamiStudio
FamiStudio NES Music Editor
FamiStudio is very simple music editor for the Nintendo Entertainment System or Famicom. It is designed to be easier to use than FamiTracker, but its feature set is also much more limited. It is targeted at both chiptune artists and NES homebrewers.
Features
Modern DAW-style UI with sequencer and piano roll, no hexadecimal anywhere
Instrument & Envelope edition
NSF import
DPCM sample editor (WAV and DMC support)
Full Undo/Redo support
Copy & Paste support
Note drag & drop with audio preview
Import from FamiTracker FTM & Text (official 0.4.6)
Export to various formats (WAV, ROM, NSF, FamiTone2, FamiStudio Text, FamiTracker Text)
Volume, fine pitch, vibrato effect tracks
Slide notes (portamento)
Arpeggios
NES sound engine (CA65, NESASM, ASM6)
MIDI input support
MIDI import/export
Audio expansions supported: VRC6, VRC7, FDS, MMC5, Namco 163 & Sunsoft S5B.
Windows, MacOS and Linux versions.
Latest Release
Fixes in 3.0.2 (Latest hotfix release)
Fixed crash when pasting past the end of an envelope
Fixed FamiTracker (FTM/TXT) import when a jump or skip effect is exactly at row 255
Fixed FamiStudio currupting the keyboard state on some european keyboards
Fixed oscilloscope vertical orientation in toolbar + video export
Fixed crash when using 150% scaling on Linux
Fixed crash when parsing FamiStudio text file using VRC6 expansion.
Fixed fine effect adjustment (shift + drag) again
Stopping all audio when undo/redo happens to change the selected song
Showing all 8 channels when importing MIDI using N163 expansion
Added error message when trying to import a corrupted WAV file
Made auto-scrolling when selecting more gradual in both sequencer and piano roll.
Fixes in 3.0.1
Fixed crash on startup on Linux when RtMidi fails to initialize
Fixed fine effect adjustment (SHIFT + drag) when multiple values are selected
Fixed race condition when stopping song playback that could cause a crash
Fixed small OpenGL leaks
Fixed pattern duplication when CTRL+SHIFT were already pressed when starting the drag
Fixed import of MIDI files containing polyphonic key pressure events
Fixed duplicated labels when exporting projects containing multiple songs to Famitone2 or FamiStudio sound engine
Fixed crash when double clicking or left clicking in some cells of grids
Fixed export of VRC6 duty cycles to FamiTracker
Properly shutting down MIDI input on Windows
Adding error message when trying to import NSF using multiple expansion chips
New features in 3.0.0 (Latest major release)
Redesigned FamiStudio tempo
Redesigned note editing
MIDI import/export support
Oscilloscope in toolbar
Optional scrollbars
Revamped Mac version
1/2 and 1/4 playback speed
Configurable QWERTY keyboard keys
Improved sound engine music data compression (15-30% smaller)
Audio expansion volume/low-pass filter configuration
S5B and VRC7 and now properly low-pass filtered
Ability to re-order songs
Hi-DPI support on Linux
Quick DPCM source data reload
Improved video rendering speed
Breaking/behavior changes:
Setting a zero volume on the volume track of the triangle channel will now stop the sound. This was always the intention (this is what SoundEngine/NSF and FamiTracker does) but it was not correctly implemented inside FamiStudio.
Release trailer
Download
Download links
Windows Installer




Windows Portable EXE

MacOS Bundle

FlatHub




Linux AMD64 Binaries

NES Sound Engine
(CA65, NESASM, ASM6)
Installation Instructions
On Windows simply download and run the installer (Setup.exe). A shortcut to FamiStudio and the included demo songs will be added to your Start Menu. If you get a warning when installing or if the app crashes when running, please check out the documentation for the fix.
On macOS, download and uncompress the file anywhere and the launch FamiStudio app. The demo songs and included in the zip. The app is unsigned and might require you to ignore a few warning.
On Linux, the FlatHub page contains the instructions, if installing from the ZIP file please read the installation instructions.
Demo Songs
A few demo songs are included in the installation folder (typically C:\Program Files (x86)\FamiStudio). Songs with no author are my approximate re-creations, based on the NSF.
After The Rain (by Shiru, included with FamiTone2)
Danger Streets (by Shiru, included with FamiTone2)
Dedricil - Full Soundtrack (by How2Bboss. Thanks!!!)
Layla : The Iris Missions - Iris (by Supper, my approximate recreation)
Tower of Heaven - Indignant Divinity (Flashygoodness, cover by Danooct1. Thanks!!!)
Mega Man 2 - Stage Select & Dr. Wily's Castle
Journey To Silius - Intro
DuckTales! - The Moon
Castlevania 2 - Bloody Tears
Shovel Knight - Strike the Earth! (Plains of Passage)
Shatterhand - Final Stage
Gimmick - Strange Memories of Death
Silver Surfer : BGM2
Gradius II - Farewell
Gyruss - Stage 2
FamiStudio - Tutorial Song (song created in tutorial)
Documentation
Please visit documentation page for detailed documentation.
Getting Started
Here is a 1h video tutorial that will show you how to create a basic song from scratch.
Source Code
The entire source code is available on GitHub.
Contact & Social Media