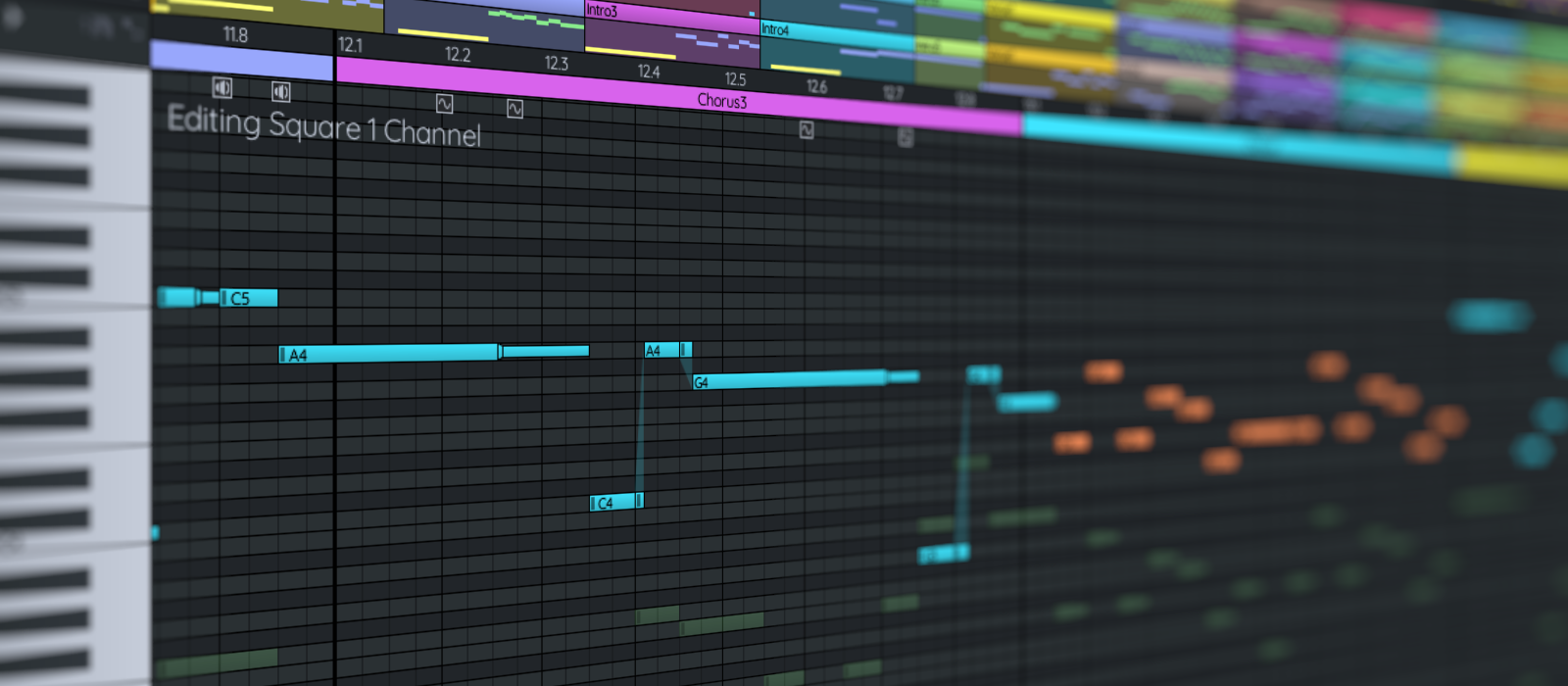 FamiStudio
FamiStudio NES Music Editor
FamiStudio is very simple music editor for the Nintendo Entertainment System or Famicom. It is designed to be easier to use than FamiTracker, but its feature set is also much more limited. It is targeted at both chiptune artists and NES homebrewers.
Features
Modern DAW-style UI with sequencer and piano roll, no hexadecimal anywhere
Instrument & Envelope edition
NSF import
Full Undo/Redo support
Copy & Paste support
Note drag & drop with audio preview
Import from FamiTracker FTM & Text (official 0.4.6)
Export to various formats (WAV, ROM, NSF, FamiTone2, FamiStudio Text, FamiTracker Text)
Volume, fine pitch, vibrato effect tracks
Slide notes (portamento)
Arpeggios
NES sound engine (CA65, NESASM, ASM6)
MIDI input support
Audio expansions supported: VRC6, VRC7, FDS, MMC5, Namco 163 & Sunsoft S5B.
Windows, MacOS and Linux versions.
Latest Release
Hotfixes in 2.2.1
Fixed import of slide notes from FamiStudio Text format.
Added option to not trim unused data when exporting to FamiStudio Text format.
Fixed crash when exporting to some formats on MacOS
Fixed crash when exporting FamiStudio/FamiTone2 SFX longer than 256 bytes.
Fixed glibc dependency issue on Linux that go introduced in 2.2.0.
New features in 2.2.0
Recording mode to record note-by-note using MIDI controller or QWERTY keyboard
Arpeggio support
Official FamiStudio Sound Engine release
Follow mode
Displaying the piano roll view range in the sequencer
FDS disk export
Basic tutorials for first time users
Error logging when importing/exporting files
Wav export loop count
Option to disable dragging sounds when a song is playing
Release trailer
Download
Download links
Windows Installer




Windows Portable EXE

MacOS Bundle

FlatHub




Linux AMD64 Binaries

NES Sound Engine
(CA65, NESASM, ASM6)
Installation Instructions
On Windows simply download and run the installer (.msi). A shortcut to FamiStudio and the included demo songs will be added to your Start Menu. If you get a warning when installing or if the app crashes when running, please check out the documentation for the fix.
On macOS, download and uncompress the file anywhere and the launch FamiStudio app. The demo songs and included in the zip. The app is unsigned and might require you to ignore a few warning.
On Linux, the FlatHub page contains the instructions, if installing from the ZIP file please read the installation instructions.
Demo Songs
A few demo songs are included in the installation folder (typically C:\Program Files (x86)\FamiStudio). Songs marked as FT2-friendly on uses the feature set that FamiTone2 supports.
After The Rain (by Shiru, included with FamiTone2)
Danger Streets (by Shiru, included with FamiTone2)
Mega Man 2 - Stage Select & Dr. Wily's Castle (my approximate recreations)
Journey To Silius - Intro (my approximate recreation)
DuckTales! - The Moon (my approximate recreation)
Castlevania 2 - Bloody Tears (my approximate recreation)
Shovel Knight - Strike the Earth! (Plains of Passage) (my approximate recreation)
Shatterhand - Final Stage (my approximate recreation)
Gimmick - Strange Memories of Death (my approximate recreation)
Silver Surfer : BGM2 (my approximate recreation)
Layla : The Iris Missions - Iris (by Supper, my approximate recreation)
FamiStudio - Tutorial Song (song created in tutorial)
Limitations / Known Issues
Installer might not work correctly in some languages (i.e. Japanese). Use portable EXE in the meantime.
Very few effects from FamiTracker are supported, please visit the documentation for full list.
MMC5 does not currently support the PCM channel.
Sunsoft 5B support is very basic at the moment (just enough to play Gimmick!). Things like envelopes & noise are currently not exposed to the user.
Documentation
Please visit documentation page for detailed documentation.
Getting Started
Here is a 40 minute video tutorial that will show you how to create a basic song from scratch.
Source Code
The entire source code is available on GitHub.
Contact & Social Media